History of 427 Squadron F-86 Sabre
The photo below was originally identified as a Christmas card, however, Armin Karcher from Zweibrücken,who is an amatuer historian and whose focus is on 1 Air Division and especially 3(F) Wing, designed and used this photo for his original web site. Armin has given his permission to use this photo.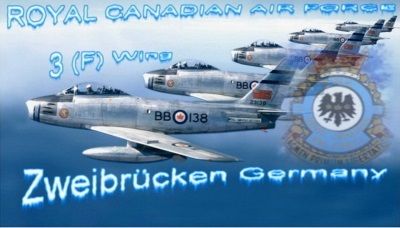 Click on any album below to expand it




For further related Sabre information go to our LINKS page
427 content required
submit your information to : macway01@gmail.com

This drawing is used without permission. It appears to be signed by RUDNO 2006 and its origin is unknown. The following information is copied from the RCAF Museum site.
427 (F) Squadron Commanding Officers - F-86 Sabre Era
S/L C.L.V. Gervais Aug 52 - Aug 53
S/L D.K. Burke, CD Jun 54 - Sep 55
W/C D. Laidler, CD Sep 55 - Jul 56
W/C W.R. "Bill" Tew, DFC, CD Oct 56 - Mar 58
W/C H.R. "Hal" Knight, CD May 58 - May 60
S/L D.B "Doc" Payne, CD Jun 60 - Nov 60
W/C P.B."Pete" St. Louis, MBE, CD Dec 60 - Dec 62



Photo from Dick Dunn's collection.
Significant Events
En route overseas Operation "Leapfrog III" 7 Mar 53 - 6 Apr 53
3 (F) Wing Zweibrucken, Germany 7 Apr 53 - 15 Jun 62
1 (F) Wing Marville, France 16 Jun 62 - 15 Dec 62
Deactivated 15 Dec 62
Aircraft Flown
Canadair Sabre Mk. 2 Sep 52 - Jun 53
Canadair Sabre Mk. 5 May 53 - Sep 55
Canadair Sabre Mk. 6 Sep 55 - Dec 62